Most of Thailand's largest people groups now have indigenous audio-visual resources in their heart language. This includes: Central Thai, Thai Muslims, Pattani Malay, Isaan, Shan, Northern Thai and Southern Pak Thai (Buddhist peoples). For the last 5 years, Create International Thailand and the Global Communication Resource Team in Chiang Mai, have been hard at work producing these resources. Our Media Outreach Network circle has met several times at various conferences to collect and distribute these and other print, web site, radio, film, animation and audio-visual resources from YWAM Thailand and the Body of Christ.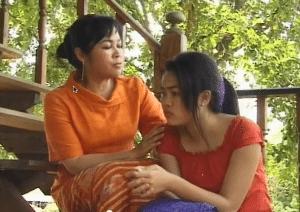 Indigenous evangelistic films, music videos, and various print resources all help us to enhance our message. Whole families can have their own tailor made messages. Create International has developed wonderful children's coloring books for Thai, Shan and other people groups. Children at Kid's clubs bring home the coloring book. As the children color, the parents read and then tell them the accompanying stories.
In countless villages across Thailand, teams have shown films on moon lit nights via white sheets hung over bamboo poles. Others show film clips and animations on their iPads or mobile phones at markets, bus stops, homes and campuses. Church planters, short term teams and YWAM staff have followed up interested viewers. But much more can be done to utilize these resources effectively. Please make sure your staff and outreach teams know about all these resources for each people group. Prior to outreach, or just in daily friendship evangelism, prepare and equip your local and visiting teams with these resources on their mobile media devices. All the films are free to download to your mobile phone or laptop.
Our role at Create International is to produce resources, ensure they are being distributed, and stand in faith that the resources God has inspired us to produce are scattering seeds which God is watering and nurturing through others who stay on the field. And sometimes we ARE privileged with seeing or hearing about people's response. This year during more than a dozen short outreaches to Northern Thailand, Laos, Cambodia, and Vietnam, our team from Create distributed dozens of media resources. While we were privileged to witness a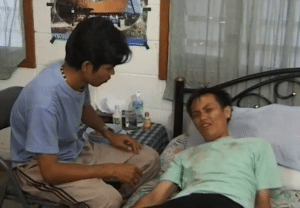 handful of new believers accept Christ, we also had to leave areas not knowing what kind of impact the Holy Spirit might make through our productions after we returned home. It's hard to say. We know without a doubt, however, that God is working in Southeast Asia. We know the resources are being distributed, and we stand in faith that God will continue doing His part as we continue doing ours.
http://www.indigitube.tv
One of the most popular films we have produced in Thailand is: "When the Storm Comes" (in Northern Thai with Central Thai and English subtitles) complete with 3 short animations.
View trailer:
http://www.indigitube.tv/when-the-storm-comes-trailer-northern-thai-language-film/
During an outreach to a neighboring province where the population is 0.4% Christian, the YWAM leaders approached the local police and were given full permission to show the Northern Thai film in the central city plaza near a large Wat. Curious monks and those at the outside markets came over to view the film. Another time, the local church leaders agreed to take it outside their church in front of a gaming centre. That weekend, after the two film showings, our team and local Church members prayed with over six people who gave their lives to Christ, Praise the Lord! Many Thai people can relate to the characters more readily in their local setting adapted to their indigenous culture and language.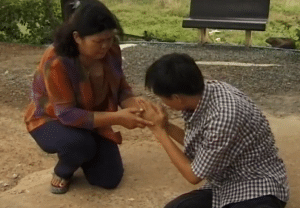 Multiplying Our Witness Through Social Media
Utilize the power of social media and social networks to multiply your witness! Create International and other ministries are seeing good results—but even more can be done! All of us need to use and expand our evangelistic reach through our own social media networks. Consider sharing film links on your facebook page, sharing trailers on your mobile device, passing out contextual Thai tracts, leaving evangelistic DVDs with interested people and more!
"Singkorn's Return", (starring our own Nok) is an exciting adventure in the life of a young Isaan boy and his friends. Together they discover the evil in the world and finally escape it through the power of love. Although teams and ministries working in Thailand have distributed at least 20,000 copies of this Gospel film, it has been viewed by nearly 90,000 individuals over our YouTube website alone. That means that well over 110,000 Isaan people have been reached with the gospel message, in large part, due to the use of the Internet and social media.
You can view the downloadable version of "Singkorn's Return" at
http://www.indigitube.tv/singkorns-return-isaan-language-film/
The Facebook page for this website is at: http://www.facebook.com/IndigiTube.tv
Bookmark www.Indigitube.tv as a valuable platform for viewing and downloading these and other films and animations that share the gospel message in hundreds of different languages. It is our desire that the Body of Christ would rise to the challenge of using effective cross-cultural evangelism tools utilizing the latest in mobile communication technologies, coupled with linguistically and culturally appropriate presentations of the gospel message.
Create International is also rolling out a new Thai language evangelistic Facebook page called, "Khon Thai Jai Dee", which will be designed specifically for reaching out to Buddhist background Thai people. It will be in Central Thai language but we hope to expand this eventually to include all of the major language groups in Thailand. We are looking for Thai YWAMers who have a heart to use this method to reach out to seekers. More on this later…