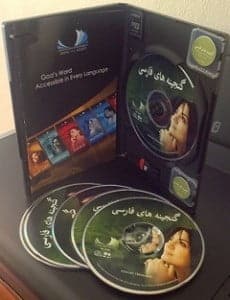 Luckily for us, the Digital Bible Society (DBS) is not a secret society, but a pro-active, very responsive ministry that started around a decade ago packaging the best of evangelistic tools in what they call "Treasure Libraries."
CREATE founders Cal and Carol met DBS' founder and CEO a few months ago at an invite-only regional missions consultation in Los Angeles. Because of this very timely connection, Create International is now partnering with DBS to include all of our evangelistic films for unreached peoples, within their "Treasure Libraries."
Each library includes digital bibles, discipleship books, audio files, and videos in the specific language of the people. This is all compiled onto a DVD (with every package containing six DVD copies), as well as several sizes of SD memory cards for your distribution pleasure! They even provide a USB thumb drive that reads all of the SD cards. What a diverse set of options! (Now you have no excuse NOT to share the Gospel — especially through the Internet, mobile devices and social media + human networks.)
Now for the big applause: DBS distributes thousands of these high-quality packages to all missionaries working with these language groups! Missionaries are encouraged to pass on packages to anyone they know working with the people group(s) in the region.
What DBS is saying about Create's film products, now available on their "Treasure Libraries":
"I personally have sampled some of the videos in the various categories. I and my colleagues are impressed with their high quality. We also were glad that there were sub-titles on some of them, so we could appreciate the meaning conveyed more clearly.

The animations have been beautifully rendered, and I believe God will use them to reach young and old, especially in conveying powerful biblical messages in a brief yet effective medium. Like the Creator who has orchestrated the "voice of creation" to bear witness to His revelations, you all are, like the builders of the Tabernacle, reflecting the creativity of God that makes Him known throughout the earth. The music videos are professional, delightful, and meaningful. The evangelistic videos are heart-moving and dramatic. We are sure they will be an effective tool to reach the lost. The training videos seem ideal for the restricted and hostile contexts where God is advancing His Kingdom. We are sure that these seeds will provide shade that encourage and equip the saints in this digital age of the harvest, in spite of the famines and dangers in these End Times.

We will keep you informed of how we use them, as well as their impact for Christ around the world. Thank you for partnering with us in fulfilling the Great Commission, as we seek to lay down our lives together for the service of our soon returning King. May we persevere in being faithful servants of God's house until the Master returns, and may the unity among the servants and harvesters increase until that Great Day.

In Christ's name, J.M."
We are believing the Lord for many more of these types of strategic partnerships to be formed this year. Pray for new and innovative ways to get the Word out!
"With Internet, mobile devices, and social networking usage exploding across the unreached world, we have an ideal platform for transmitting tailor-made indigenous audio-visual media to communicate the Gospel. Through these inexpensive, dynamic distribution channels, mass media communication is no longer limited to traditional 'broad-cast' strategies…" –Create Staff Workers
Let's harness the power of this age, of narrow-cast media — transmitted to virtually millions of people for very little cost, and great potential to 'go viral…' >>
For more outreach tools for a mobile generation, visit Indigitube.tv.