Training

Develop Your Media and Art Skills for Missions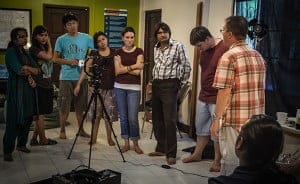 Year of Arts and Media for Missions
Combine your love for ARTS & MEDIA and your heart for missions to make God known among the nations! Join us for a year of growing in God, making new relationships, practical skill development, and producing cutting-edge tools to reach the world's unreached peoples! ! You will learn how to contextualize the Gospel, create various media and art resources, and utilize these tools to clearly present the Good News of Jesus Christ. No previous training required! Check out the Year of Arts and Media for Missions page here!
Create DTS (Discipleship Training School)
Do you want your life to make a difference in this world? Do you have a desire to be transformed by God and combine your love for media & the arts to share the gospel? Do you want to effectively reach out to the unreached peoples of the world? Then the Create DTS may be for you.
In an age where films, animation, art & photography are loved and so popular, why not use it to shine God's glory. Encounter God, be 'ruined for the ordinary,' and fulfill the Great Commission of Jesus Christ to make disciples among all nations — "every tribe and language and people," says the Lord (Rev.5:9).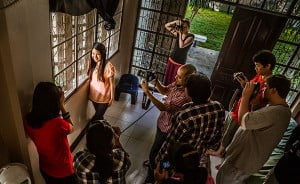 Media DTS (Discipleship Training School)

It's a place of learning and applying biblical principles so that we can impact and influence the society and community around us. Staff and students from different backgrounds live together learning and helping each other to fulfill the purposes of God for their lives. During this MDTS, the students also learn some very basic media skills in the area of Photography and video filmmaking. As part of their curriculum, the students do short media projects during the Lecture Phase which they could use on the Outreach Phase.Check out the Media DTS in Jaipur, India.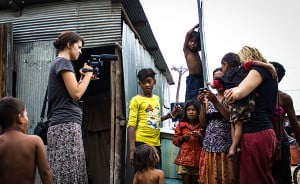 Frontier Filmmaking Seminar (FFS)
The FFS is a five to six-week seminar designed to give you an experience of what it is like to be a production assistant on a cross-cultural film crew producing a dramatic, evangelistic film for an unreached mega (1 million or more) people group on the 20/20 Vision list. We cover basic training in a variety of filmmaking disciplines including photography, cinematography, scriptwriting, editing and cross-cultural methods to effectively communicate the Gospel of Jesus Christ through video. We then make an actual movie together for three weeks with professional Create International staff and our local partners.
Contact the school leaders at create2020vision@gmail.com
More information at http://create2020.com/training
This onsite, mobile program is offered in English more than once a year in different locations around the world. The FFS is accredited with the University of the Nations and is an elective of the College of Communications and the college of Christian ministries."
Cross-Cultural Film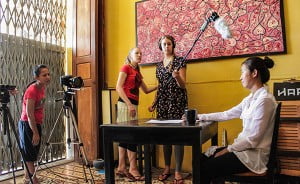 Institute (CCFI)
Training and equipping skilled media workers with proven cross-cultural techniques to multiply teams creating indigenous Gospel presentations.
The Cross-Cultural Film Institute is a short and intensive training program designed for media professionals to enhance their skills with cross-cultural experience.
Check out the Cross-Cultural Film Institute in Chiang Mai, Thailand. Interested contact: creategcrc@gmail.com
Media2go
Are you a budding videographer? Like to get into editing short videos and documentaries? Looking for a way to empower your passion for mission with hands-on training and experience in video production?
Media 2 Go could be the launching pad for you to test your wings.
For more information visit the Create Emerge website!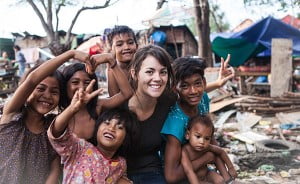 School of Frontier Media
Are you interested in media? Do you want to share the gospel in relevant ways using film, the arts or websites? Combine these interests with your heart for world missions to discover your part in bringing the gospel to all nations. Create audio and video tools that will have a lasting and ongoing impact for Jesus! The School of Frontier Media (SFM) is all about using the power of sight and sound to communicate the gospel in culturally relevant ways.
SFM Perth/Australia
Now, you can utilize the power of sight and sound, breaking through communication barriers, to bring the vital messages of the Gospel and Frontier Missions to audiences around the world. Through culturally appropriate audio-visuals – crucial for communication to the over 70% of the world's population who are illiterate – life-changing impressions can be stamped on the viewer's heart. For more information visit Create International Perth's website.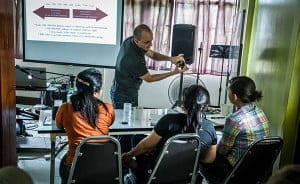 SFM Chiang Mai/Thailand
Do you have a heart for media? Want to use your skills to share Jesus via mass media tools across Asia? Whether you are new to media or skilled in one or more areas, if you want to use media for missions then the Thailand SFM is probably for you. For more information visit Create International Thailand's website.
School of Cartooning and Animation for Missions
SOCAM Taiwan
Do you love to draw cartoons? Would you like to use your skills and talents to reach the least-reached peoples of the world with the gospel in a culturally relevant way? Come to Taipei, Taiwan, for the School of Cartooning and Animation for Missions! For more information visit http://www.createtaiwan.com/socam.html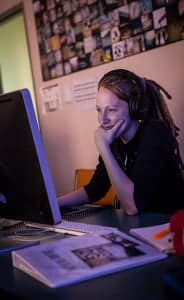 Visual Arts for Missions (VAM)
The VAM students will learn to use biblical truth and gospel stories to create indigenous art forms that unreached peoples can understand. Lectures and workshops by experienced cross-cultural artists, hands-on training, and ministry opportunities among the Asian art community all enhance the learning experience. The VAM school focuses on the integration of visual art techniques with a cross-cultural focus, to produce and multiply evangelistic resources for unreached peoples. Students will learn: Ethno-Arts, Introduction to Drawing, Advanced Drawing, Painting & Color Technique, Painting Mediums, and Advanced Painting & Mixed Media.Lectures are followed by a cross-cultural outreach to an unreached people group learning with local artists, art exhibitions, and producing indigenous art tools for sharing the gospel.
For more information visit Visual Arts for Missions
CREATE INTERNATIONAL INTENSIVE SEMINARS
Creative Field Photography – One Week
Videography and Basic Editing – One Week
Comic Strip Creation – One Week
Flash Animation Techniques – One Week
Web Evangelism – One Week
All seminars are offered at our Create International centre in Thailand, and are fully accredited with the University of the Nations.