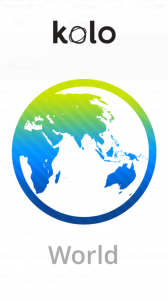 Kolo World App is out for iOS and Android phones. Create International is excited! A Christian ministry distribution App is now hosting our films! This is a tremendous boost for not only the availability of our gospel films being used for evangelism towards the Unreached; but also for our credibility as a cutting edge media ministry. We are so thankful to the team at Kolo for being willing to showcase our ministry and productions as they plot the course forward to create a "one stop" repository for all of the best gospel materials for every language and people in the world.
Kolo World is a "Language Centric" App which provides access to audio and video content in over 1,200 world languages.
Kolo World helps you identify the name of the language you are interested in by choosing the flag of the country where it is spoken and listening to audio clips of languages.
Select a language and Kolo World will retrieve available videos from the Jesus Film Media catalog, the FCBH audio Bible catalog, and other media sources.These can either be viewed and listened to by live streaming if on a strong internet connection, or they can be downloaded to the smartphone to build a personal LIBRARY within the app for off-line viewing.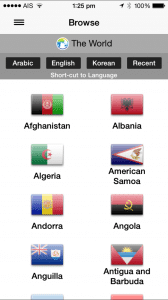 To download this app for free for your iPhone follow this link:
https://itunes.apple.com/us/app/kolo-world/id929810577?mt=8
If you are using an Android phone download this version:
https://play.google.com/store/apps/details?id=org.kologroup.koloworld&hl=en